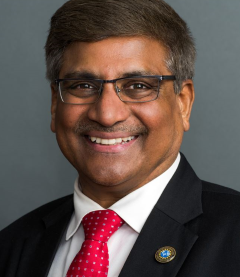 On Tuesday, September 13, 2022, the Office of Research and Creative Activities is hosting a virtual town hall with National Science Foundation (NSF) Director Sethuraman Panchanathan at 11:30 a.m. – 12:30 p.m. In his presentation, Innovation Anywhere, Opportunities Everywhere: Accelerating the Frontiers of Science & Technology, he will discuss NSF's vision and current priorities, the new Technology Innovation and Partnerships (TIP) Directorate and how science is critical to solving major challenges and creating new opportunities. A Q&A session will follow. This event is open to the UCLA community. An RSVP is required to attend.
Event Details: 
WHAT: Town Hall with NSF Director Sethuraman Panchanathan
WHEN: Tuesday, September 13, 2022
TIME: 11:30 a.m. – 12:30 p.m.
WHERE: CNSI Auditorium, 570 Westwood Plaza
RSVP: https://conta.cc/3AkDr1z
Please direct any questions about this event to: ovcr@conet.ucla.edu.