Roger Wakimoto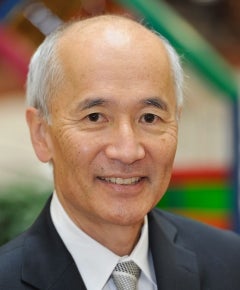 Roger Wakimoto began as the Vice Chancellor for Research at UCLA in July 2017. Responding to feedback from the UCLA community, he subsequently changed the working title to Vice Chancellor for Research & Creative Activities in order to capture more fully the complex variety of scholarship undertaken by UCLA's faculty and students.
Vice Chancellor Wakimoto is an accomplished atmospheric scientist specializing in research on mesoscale meteorology, particularly severe convective storms and radar meteorology. In 2017, he returned to UCLA's Department of Atmospheric and Oceanic Sciences faculty, having previously served as a member in 1983-2005 and as its chair in 1996-2000. After his initial tenure at UCLA, he served as the director of the National Center for Atmospheric Research (NCAR) Earth Observing Laboratory from 2005-2010 and subsequently as director of NCAR from 2010-2013. Vice Chancellor Wakimoto was also assistant director of the National Science Foundation Directorate for Geosciences from 2013-2017; where he led a division that supported the atmospheric, geospace, polar, earth, and ocean sciences with a $1.3 billion annual budget, and president of the American Meteorological Society in 2017-2019.                                                                                                                                                              
Vice Chancellor Wakimoto is well published in his field and has served on many panels, committees, and boards for research organizations. He has published a number of journal articles throughout his career. He was an associate editor of the Monthly Weather Review and a co-editor of the American Meteorological Society Meteorological Monograph Radar and Atmospheric Sciences: A Collection of Essays in Honor of David Atlas.
Vice Chancellor Wakimoto received his B.S. with honors and great distinction in meteorology from San Jose State University and his Ph.D. in geophysical sciences from the University of Chicago. He previously held a professorship at both UCLA and the University of Colorado at Boulder. He has received many honors, including a scientific and technical achievement award from the Environmental Protection Agency for observations of air pollution as well as the Clarence Leroy Meisinger Award from the American Meteorological Society for his contributions to understanding of mesoscale phenomena.
Past Leaders
2016-2017— Ann R. Karagozian (Interim)
2010-2016 — James S. Economou
2000-2010 — Roberto Peccei
1993-1999 — C. Kumar Patel 
~1981-1993 — Albert A. Barber